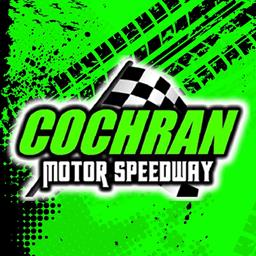 7/8/2023 - Cochran Motor Speedway
Cochran, GA
CRATE (604) LATE MODEL SUMMER SIZZLER - $2000 to win Main Event
SUMMER SIZZLER CONTINUES WITH ANOTHER WEEKEND OFFERING BONUS BUCKS!
Southeastern Performance (604) Crate Late Models - $2000 to WIN!
Plus - NVRA Vintage Cars, Vidalia Motorsports Late Model (602) Sportsman, Last Air & Electrical Bomber, 602 Chargers/Beginners, Fleming Auto Jr. Crown Vic and the L&L Body Shop Pro Crown Vic!
NO RACING in the Street Stocks and Open Wheels on Saturday, July 8th!
Gates Open at 4pm. Driver's Meeting at 6pm. Hot Laps & Racing at 7pm.
Grandstand Tickets are $15; Kids age 6-10 are $10
Pit Passes are $35; Kids age 6-10 are $25
Kids five & under are FREE in the grandstand and pit area
Southeastern Performance 604 Crate Late Models

6 entries

Vidalia Motorsports 602 Sportsman

11 entries

Last Air & Electrical Bomber

10 entries

Flemings Auto Jr. Crown Vic

8 entries

L & L Body Shop Pro Crown Vic

7 entries

602 Chargers

5 entries

NVRA Modified/Sportsman

10 entries

NVRA Open Wheel Modified

7 entries
Full Event Information on MyRacePass
Southeastern Performance 604 Crate Late Models
Finish
Start
#
Competitor
Hometown
+/-
1
1
00
David Poole Mcrea, GA
Mcrea, GA
-
2
4
15T
Matthew Taylor Fort Valley, GA
Fort Valley, GA
2
3
5
7
Tommy Hadden Twin City, GA
Twin City, GA
2
4
2
H77
Johnathan Hart Eastman, GA
Eastman, GA
-2
5
6
27
Blake Daniels Twin City, GA
Twin City, GA
1
DNS
3
107
Chaz Haskins Gray, GA
Gray, GA
-
Finish
Start
#
Competitor
Hometown
Time
1
5
00
David Poole Mcrea, GA
Mcrea, GA
15.308
2
6
H77
Johnathan Hart Eastman, GA
Eastman, GA
15.333
3
4
107
Chaz Haskins Gray, GA
Gray, GA
15.352
4
2
15T
Matthew Taylor Fort Valley, GA
Fort Valley, GA
15.453
5
3
7
Tommy Hadden Twin City, GA
Twin City, GA
16.066
6
1
27
Blake Daniels Twin City, GA
Twin City, GA
16.283
All transfer
Vidalia Motorsports 602 Sportsman
Finish
Start
#
Competitor
Hometown
+/-
1
2
1
Cameron Tribble Harlem, GA
Harlem, GA
1
2
5
17M
Brandon McDaniel Macon, GA
Macon, GA
3
3
4
86
Wiley McDaniel Byron, GA
Byron, GA
1
4
1
107
Chaz Haskins Gray, GA
Gray, GA
-3
5
3
13
Landon Mathews Dublin, GA
Dublin, GA
-2
6
6
94D
Caleb Gay Dublin, GA
Dublin, GA
-
7
7
01G
Coby Giddens Cochran, GA
Cochran, GA
-
8
9
15JR
Marvin Fulford Montrose, GA
Montrose, GA
1
9
11
18
Keith Edge Eastman, GA
Eastman, GA
2
10
8
49
Wesley Robertson Hawkinsville, GA
Hawkinsville, GA
-2
11
10
6
Koulten Herbert Locust Grove, GA
Locust Grove, GA
-1
Finish
Start
#
Competitor
Hometown
+/-
1
1
107
Chaz Haskins Gray, GA
Gray, GA
-
2
3
1
Cameron Tribble Harlem, GA
Harlem, GA
1
3
2
13
Landon Mathews Dublin, GA
Dublin, GA
-1
4
7
86
Wiley McDaniel Byron, GA
Byron, GA
3
5
9
17M
Brandon McDaniel Macon, GA
Macon, GA
4
6
11
94D
Caleb Gay Dublin, GA
Dublin, GA
5
7
4
01G
Coby Giddens Cochran, GA
Cochran, GA
-3
8
5
49
Wesley Robertson Hawkinsville, GA
Hawkinsville, GA
-3
9
8
15JR
Marvin Fulford Montrose, GA
Montrose, GA
-1
10
10
6
Koulten Herbert Locust Grove, GA
Locust Grove, GA
-
DNS
6
18
Keith Edge Eastman, GA
Eastman, GA
-
Last Air & Electrical Bomber
Finish
Start
#
Competitor
Hometown
+/-
1
4
41
Michael Davis Chester, GA
Chester, GA
3
2
6
17L
Clarissa Ledford Glenwood, GA
Glenwood, GA
4
3
7
73
Wil Herrington Hawkinsville, GA
Hawkinsville, GA
4
4
5
99
Brian Jones Cochran, GA
Cochran, GA
1
5
3
73S
Blake Martin Paducah, KY
Paducah, KY
-2
6
8
97
Freeman Burch Chauncey, GA
Chauncey, GA
2
7
9
5
Jason Lang Warner Robbins, GA
Warner Robbins, GA
2
8
2
98
Jimmy Johnson Monroe, GA
Monroe, GA
-6
9
10
12
Justin Bridges Unadilla, GA
Unadilla, GA
1
DQ
1
09
Kyle Conyer Cochran, GA
Cochran, GA
-
Finish
Start
#
Competitor
Hometown
+/-
1
4
98
Jimmy Johnson Monroe, GA
Monroe, GA
3
2
5
73S
Blake Martin Paducah, KY
Paducah, KY
3
3
10
41
Michael Davis Chester, GA
Chester, GA
7
4
7
99
Brian Jones Cochran, GA
Cochran, GA
3
5
6
17L
Clarissa Ledford Glenwood, GA
Glenwood, GA
1
6
9
73
Wil Herrington Hawkinsville, GA
Hawkinsville, GA
3
7
8
97
Freeman Burch Chauncey, GA
Chauncey, GA
1
8
3
5
Jason Lang Warner Robbins, GA
Warner Robbins, GA
-5
9
2
12
Justin Bridges Unadilla, GA
Unadilla, GA
-7
10
1
09
Kyle Conyer Cochran, GA
Cochran, GA
-9
Flemings Auto Jr. Crown Vic
Finish
Start
#
Competitor
Hometown
+/-
1
1
7
Coby Fountain Rentz, GA
Rentz, GA
-
2
3
1
MATTHEW MORRIS MELDRIN, GA
MELDRIN, GA
1
3
5
10
Kenzie Maddox Montrose, GA
Montrose, GA
2
4
8
5X
Daniel Robbins Montezuma, GA
Montezuma, GA
4
5
4
6J
JACKSON WELLS Fort Valley, GA
Fort Valley, GA
-1
6
7
38
Shawn Bowen Hawkinsville, GA
Hawkinsville, GA
1
7
6
49
Susie Toler Hawkinsville, GA
Hawkinsville, GA
-1
8
2
5G
Jason Lang Jr. Warner Robbins, GA
Warner Robbins, GA
-6
Finish
Start
#
Competitor
Hometown
+/-
1
5
7
Coby Fountain Rentz, GA
Rentz, GA
4
2
1
5G
Jason Lang Jr. Warner Robbins, GA
Warner Robbins, GA
-1
3
4
1
MATTHEW MORRIS MELDRIN, GA
MELDRIN, GA
1
4
6
6J
JACKSON WELLS Fort Valley, GA
Fort Valley, GA
2
5
3
10
Kenzie Maddox Montrose, GA
Montrose, GA
-2
6
7
49
Susie Toler Hawkinsville, GA
Hawkinsville, GA
1
7
2
38
Shawn Bowen Hawkinsville, GA
Hawkinsville, GA
-5
8
8
5X
Daniel Robbins Montezuma, GA
Montezuma, GA
-
L & L Body Shop Pro Crown Vic
Finish
Start
#
Competitor
Hometown
+/-
1
1
17
Griffin Jones Rhine, GA
Rhine, GA
-
2
2
49
Wesley Robertson Hawkinsville, GA
Hawkinsville, GA
-
3
3
62
Mike Young Helena, GA
Helena, GA
-
4
4
11
kam szekely Dublin, GA
Dublin, GA
-
5
7
10
Kurt Starling Perry, GA
Perry, GA
2
6
6
5X
Shane Calitine Montezuma, GA
Montezuma, GA
-
DNS
5
73
Robbie Bland Dublin, GA
Dublin, GA
-
Finish
Start
#
Competitor
Hometown
+/-
1
5
17
Griffin Jones Rhine, GA
Rhine, GA
4
2
1
49
Wesley Robertson Hawkinsville, GA
Hawkinsville, GA
-1
3
2
62
Mike Young Helena, GA
Helena, GA
-1
4
4
11
kam szekely Dublin, GA
Dublin, GA
-
5
3
73
Robbie Bland Dublin, GA
Dublin, GA
-2
DNS
6
5X
Shane Calitine Montezuma, GA
Montezuma, GA
-
DNS
7
10
Kurt Starling Perry, GA
Perry, GA
-
602 Chargers
Finish
Start
#
Competitor
Hometown
+/-
1
1
1
Grimsley Fulford Montrose, GA
Montrose, GA
-
2
2
94D
Baker Davis Cochran, GA
Cochran, GA
-
3
3
89
Jacob Howell Glenwood, GA
Glenwood, GA
-
4
4
38
Spencer Taylor Macon, GA
Macon, GA
-
5
5
27E
Eric Baggett Dublin, GA
Dublin, GA
-
Finish
Start
#
Competitor
Hometown
+/-
1
4
1
Grimsley Fulford Montrose, GA
Montrose, GA
3
2
3
94D
Baker Davis Cochran, GA
Cochran, GA
1
3
1
89
Jacob Howell Glenwood, GA
Glenwood, GA
-2
4
5
38
Spencer Taylor Macon, GA
Macon, GA
1
5
2
27E
Eric Baggett Dublin, GA
Dublin, GA
-3
NVRA Modified/Sportsman
Finish
Start
#
Competitor
Hometown
+/-
1
1
Bobby Morris Bloomingdale, GA
Bloomingdale, GA
-
2
44
Morgan Alexander Locust Grove, GA
Locust Grove, GA
-
3
21
Lamar Kellum Watkinsville, GA
Watkinsville, GA
-
4
95
Donald Murdock Acworth, GA
Acworth, GA
-
5
14
Daniel Kellum Watkinsville, GA
Watkinsville, GA
-
6
75
Mike Nasworthy Macon, GA
Macon, GA
-
7
J4
Jeffery Powell Statesboro, GA
Statesboro, GA
-
8
55
Ricky Joiner Swainsboro, GA
Swainsboro, GA
-
9
80
Logan Morris Rincon, GA
Rincon, GA
-
NVRA Open Wheel Modified
Finish
Start
#
Competitor
Hometown
+/-
1
777
Mike Nasworthy Macon, GA
Macon, GA
-
2
181
Lonnie Roberts SPARKS, GA
SPARKS, GA
-
3
23
Mark Jones Covington, GA
Covington, GA
-
4
00
Martin Sapp QUITMAN, GA
QUITMAN, GA
-
5
61
Robert Foxworth Covington, GA
Covington, GA
-
6
02
JOE ESTES Jacksonville, AL
Jacksonville, AL
-
Our Partners