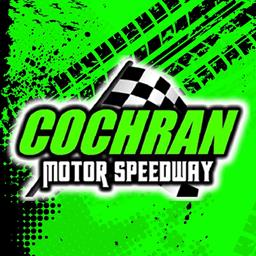 11/18/2023 - Cochran Motor Speedway
Cochran, GA
LATE MODELS - GO KARTS - AND MORE!!!
Southern Clash Late Models
(Just added due to the sudden cancelation of Screven's event)
Qualifying - Heat Races - Last Chance - Feature
Last Air & Electrical Bomber, Flemings Auto Jr. Crown Vic and L&L Body Shop Pro Crown Vic!
There is also an OPEN PRACTICE for all other divisions!
Grandstand Admission is $15; Kids 6-10 are $10
Five & Under are FREE
Pit Passes are $35; Kids 6-10 are $20
Five & Under are FREE
We also will be hosting an Open Practice at the new go kart track in the afternoon. Go Kart Track Gates will open at 11am with practice scheduled from noon until 5pm. Admission tickets are $10. Kart fee is $10 per kart.
The 'Place to Race' is at the Battlefield - Cochran Motor Speedway!
Cochran Motor Speedway is located at 241 Jim Wimberly Road in Cochran, GA. Just off of US Highway 23 north of Cochran.
For information, call the track hotline at 478.456.4036.
Pits Open

11:00 AM

Gates Open

11:00 AM

Hot Laps At

12:00 PM
Upcoming Events
Schedule TBA
---
Our Partners