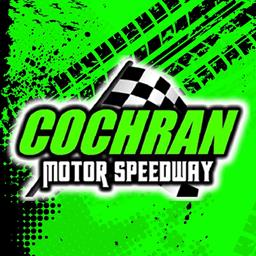 6/24/2023 - Cochran Motor Speedway
Cochran, GA
LATE MODEL (602) SPORTSMAN SUMMER SIZZLER - $1,000 to win Main Event
SUMMER SIZZLER CONTINUES WITH ANOTHER WEEKEND OFFERING BONUS BUCKS!
The Vidalia Motorsports Late Model (602) Sportsman take center stage this weekend! The drivers will be chasing the $1000 top prize for winning the Feature race!
Plus, racing in the Southeastern Performance (604) Crate Late Models, Open Wheel Modifieds (602), Street Stock, Last Air & Electrical Bomber, 602 Chargers/Beginners, Fleming Auto Jr. Crown Vic and the L&L Body Shop Pro Crown Vic!
Gates Open at 4pm. Driver's Meeting at 6pm. Hot Laps & Racing at 7pm.
Grandstand Tickets are $15; Kids age 6-10 are $10; Five & Under are FREE.
Pit Passes are $35; Kids age 6-10 are $25; Five & Under are FREE.
Southeastern Performance 604 Crate Late Models

7 entries

Vidalia Motorsports 602 Sportsman

19 entries

Modified 602 Crate

4 entries

Heartland EMS Street Stock

4 entries

Last Air & Electrical Bomber

17 entries

Flemings Auto Jr. Crown Vic

10 entries

L & L Body Shop Pro Crown Vic

3 entries

Economy Late Models

8 entries
Full Event Information on MyRacePass
Southeastern Performance 604 Crate Late Models
Finish
Start
#
Competitor
Hometown
+/-
1
16
Caleb Gay Dublin, GA
Dublin, GA
-
2
16X
Josh Lanford Madison, GA
Madison, GA
-
3
54
Tim Dixon Adel, GA
Adel, GA
-
4
11
Allen Styck Americus, GA
Americus, GA
-
5
14
Matthew Taylor Fort Valley, GA
Fort Valley, GA
-
6
H77
Johnathan Hart Eastman, GA
Eastman, GA
-
7
00
David Poole Mcrea, GA
Mcrea, GA
-
Finish
Start
#
Competitor
Hometown
+/-
1
4
16
Caleb Gay Dublin, GA
Dublin, GA
3
2
2
16X
Josh Lanford Madison, GA
Madison, GA
-
3
6
54
Tim Dixon Adel, GA
Adel, GA
3
4
3
11
Allen Styck Americus, GA
Americus, GA
-1
5
1
14
Matthew Taylor Fort Valley, GA
Fort Valley, GA
-4
6
5
00
David Poole Mcrea, GA
Mcrea, GA
-1
7
7
H77
Johnathan Hart Eastman, GA
Eastman, GA
-
Vidalia Motorsports 602 Sportsman
Finish
Start
#
Competitor
Hometown
+/-
1
1
Cameron Tribble Harlem, GA
Harlem, GA
-
2
21
Tyler Sanders Dublin, GA
Dublin, GA
-
3
17G
Caleb Gay Dublin, GA
Dublin, GA
-
4
86
Wiley McDaniel Byron, GA
Byron, GA
-
5
13
Landon Mathews Dublin, GA
Dublin, GA
-
6
107
Chaz Haskins Gray, GA
Gray, GA
-
7
11X
Allen Styck Americus, GA
Americus, GA
-
8
11
Daniel Brown Statesboro, GA
Statesboro, GA
-
9
49
Wesley Robertson Hawkinsville, GA
Hawkinsville, GA
-
10
15JR
Marvin Fulford Montrose, GA
Montrose, GA
-
11
7R
Quentin Steedley High Springs, FL
High Springs, FL
-
12
2
Hadley Greene ELLAVILLE, GA
ELLAVILLE, GA
-
13
95B
Brian Hobbs Camilla, GA
Camilla, GA
-
14
22
Dylan Dunn Citra Springs, FL
Citra Springs, FL
-
15
12
Steven Bryant Moultrie, GA
Moultrie, GA
-
16
01G
Coby Giddens Cochran, GA
Cochran, GA
-
17
4
Dustin Watkins Swainsboro, GA
Swainsboro, GA
-
18
18
Brandon Haire Tifton, GA
Tifton, GA
-
19
357
Kyle Connell Gibson, GA
Gibson, GA
-
Finish
Start
#
Competitor
Hometown
+/-
1
6
1
Cameron Tribble Harlem, GA
Harlem, GA
5
2
4
17G
Caleb Gay Dublin, GA
Dublin, GA
2
3
2
11X
Allen Styck Americus, GA
Americus, GA
-1
4
7
22
Dylan Dunn Citra Springs, FL
Citra Springs, FL
3
5
3
2
Hadley Greene ELLAVILLE, GA
ELLAVILLE, GA
-2
6
5
357
Kyle Connell Gibson, GA
Gibson, GA
-1
7
1
11
Daniel Brown Statesboro, GA
Statesboro, GA
-6
Finish
Start
#
Competitor
Hometown
+/-
1
3
4
Dustin Watkins Swainsboro, GA
Swainsboro, GA
2
2
5
107
Chaz Haskins Gray, GA
Gray, GA
3
3
4
13
Landon Mathews Dublin, GA
Dublin, GA
1
4
1
12
Steven Bryant Moultrie, GA
Moultrie, GA
-3
5
6
21
Tyler Sanders Dublin, GA
Dublin, GA
1
6
2
01G
Coby Giddens Cochran, GA
Cochran, GA
-4
Finish
Start
#
Competitor
Hometown
+/-
1
1
86
Wiley McDaniel Byron, GA
Byron, GA
-
2
3
49
Wesley Robertson Hawkinsville, GA
Hawkinsville, GA
1
3
5
15JR
Marvin Fulford Montrose, GA
Montrose, GA
2
4
6
95B
Brian Hobbs Camilla, GA
Camilla, GA
2
5
4
18
Brandon Haire Tifton, GA
Tifton, GA
-1
6
2
7R
Quentin Steedley High Springs, FL
High Springs, FL
-4
Modified 602 Crate
Finish
Start
#
Competitor
Hometown
+/-
1
1
0
Casey Lee Savannah, GA
Savannah, GA
-
2
3
27
Jason Floyd Cochran, GA
Cochran, GA
1
3
2
54
Tommy Hadden Twin City, GA
Twin City, GA
-1
4
4
39
Carter Fair Cochran, GA
Cochran, GA
-
Finish
Start
#
Competitor
Hometown
+/-
1
1
0
Casey Lee Savannah, GA
Savannah, GA
-
2
3
54
Tommy Hadden Twin City, GA
Twin City, GA
1
3
4
27
Jason Floyd Cochran, GA
Cochran, GA
1
4
2
39
Carter Fair Cochran, GA
Cochran, GA
-2
Heartland EMS Street Stock
Last Air & Electrical Bomber
Finish
Start
#
Competitor
Hometown
+/-
1
82
Shane Taylor Trenton, FL
Trenton, FL
-
2
41
Clarissa Ledford Glenwood, GA
Glenwood, GA
-
3
68
Tim Jenson BONAIRE, GA
BONAIRE, GA
-
4
58
Steven Jenson Dry Branch, GA
Dry Branch, GA
-
5
99
Brian Jones Cochran, GA
Cochran, GA
-
Finish
Start
#
Competitor
Hometown
+/-
1
1
14
Justin Hart Swainsboro, GA
Swainsboro, GA
-
2
2
21
Clinton Love Uvalda, GA
Uvalda, GA
-
3
6
44
Alex Sturkie Waynesboro, GA
Waynesboro, GA
3
4
4
12
Justin Bridges Unadilla, GA
Unadilla, GA
-
5
3
27
Jeffrey Yates Sandersville, GA
Sandersville, GA
-2
6
5
1D3
Daniel Beasley Augusta, GA
Augusta, GA
-1
Finish
Start
#
Competitor
Hometown
+/-
1
4
113
Ridge McCoy Sanderville, GA
Sanderville, GA
3
2
2
22
Brennen Bratcher REIDSVILLE, GA
REIDSVILLE, GA
-
3
3
94
Graham Stevenson Dublin, GA
Dublin, GA
-
4
6
19B
CODY BERRYHILL Cochran, GA
Cochran, GA
2
5
5
09
Kyle Conyer Cochran, GA
Cochran, GA
-
6
1
54J
Jacob Horton Davisboro , GA
Davisboro , GA
-5
Flemings Auto Jr. Crown Vic
Finish
Start
#
Competitor
Hometown
+/-
1
2
19B
Carson Berryhill Cochran, GA
Cochran, GA
1
2
5
10
Kenzie Maddox Montrose, GA
Montrose, GA
3
3
7
5
Jason Lang Jr. Warner Robbins, GA
Warner Robbins, GA
4
4
6
11
Justin Meacham Dublin, GA
Dublin, GA
2
5
9
38
Shawn Bowen Hawkinsville, GA
Hawkinsville, GA
4
6
1
273
Benji Lucas Cochran, GA
Cochran, GA
-5
7
3
49X
Susie Toler Hawkinsville, GA
Hawkinsville, GA
-4
8
4
98
Jenna Johnson HAZLEHURST, GA
HAZLEHURST, GA
-4
9
8
85
Ronni Johnson HAZELHURST, GA
HAZELHURST, GA
-1
Finish
Start
#
Competitor
Hometown
+/-
1
2
273
Benji Lucas Cochran, GA
Cochran, GA
1
2
3
49X
Susie Toler Hawkinsville, GA
Hawkinsville, GA
1
3
5
10
Kenzie Maddox Montrose, GA
Montrose, GA
2
4
4
5
Jason Lang Jr. Warner Robbins, GA
Warner Robbins, GA
-
Finish
Start
#
Competitor
Hometown
+/-
1
1
19B
Carson Berryhill Cochran, GA
Cochran, GA
-
2
3
98
Jenna Johnson HAZLEHURST, GA
HAZLEHURST, GA
1
3
2
11
Justin Meacham Dublin, GA
Dublin, GA
-1
4
4
85
Ronni Johnson HAZELHURST, GA
HAZELHURST, GA
-
5
5
38
Shawn Bowen Hawkinsville, GA
Hawkinsville, GA
-
L & L Body Shop Pro Crown Vic
Finish
Start
#
Competitor
Hometown
+/-
1
1
49
Wesley Robertson Hawkinsville, GA
Hawkinsville, GA
-
2
2
11
kam szekely Dublin, GA
Dublin, GA
-
3
3
5X
Jason Lang Warner Robbins, GA
Warner Robbins, GA
-
Finish
Start
#
Competitor
Hometown
+/-
1
3
49
Wesley Robertson Hawkinsville, GA
Hawkinsville, GA
2
2
2
11
kam szekely Dublin, GA
Dublin, GA
-
3
1
5X
Jason Lang Warner Robbins, GA
Warner Robbins, GA
-2
Economy Late Models
Finish
Start
#
Competitor
Hometown
+/-
1
1
12C
Chase Giddens Moultrie, GA
Moultrie, GA
-
2
2
21
Ridge McCoy Sanderville, GA
Sanderville, GA
-
3
3
9
Trace Woodard Rentz, GA
Rentz, GA
-
4
4
1
Grimsley Fulford Montrose, GA
Montrose, GA
-
5
5
8B
Wilson Boyd Sylvania, GA
Sylvania, GA
-
6
6
38T
Spencer Taylor Macon, GA
Macon, GA
-
7
7
27E
Eric Baggett Dublin, GA
Dublin, GA
-
8
8
387
Jacob Howell Glenwood, GA
Glenwood, GA
-
Finish
Start
#
Competitor
Hometown
+/-
1
12C
Chase Giddens Moultrie, GA
Moultrie, GA
-
2
1
Grimsley Fulford Montrose, GA
Montrose, GA
-
3
387
Jacob Howell Glenwood, GA
Glenwood, GA
-
4
21
Ridge McCoy Sanderville, GA
Sanderville, GA
-
5
9
Trace Woodard Rentz, GA
Rentz, GA
-
6
8B
Wilson Boyd Sylvania, GA
Sylvania, GA
-
7
27E
Eric Baggett Dublin, GA
Dublin, GA
-
8
38T
Spencer Taylor Macon, GA
Macon, GA
-
Finish
Start
#
Competitor
Hometown
+/-
1
3
12C
Chase Giddens Moultrie, GA
Moultrie, GA
2
2
2
21
Ridge McCoy Sanderville, GA
Sanderville, GA
-
3
6
9
Trace Woodard Rentz, GA
Rentz, GA
3
4
7
1
Grimsley Fulford Montrose, GA
Montrose, GA
3
5
4
8B
Wilson Boyd Sylvania, GA
Sylvania, GA
-1
6
5
38T
Spencer Taylor Macon, GA
Macon, GA
-1
7
8
27E
Eric Baggett Dublin, GA
Dublin, GA
1
8
1
387
Jacob Howell Glenwood, GA
Glenwood, GA
-7
Our Partners