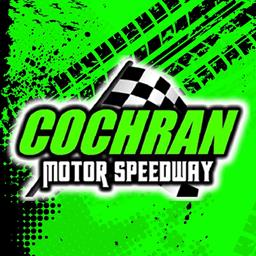 8/5/2023 - Cochran Motor Speedway
Cochran, GA
Crown Vic 'Clash for Cash'
CROWN VIC 'CLASH FOR CASH' - $1,000 to win
It's Crown Vic division's turn in the spotlight with this Saturday's running of the first ever Crown Vic 'Clash for Cash'!
Pro Crown Vic $1000 to Win
Mini Sharp Late Models $1500 to Win
602 Late Model Sportsman
602 Chargers / Beginners
Bombers
Jr Crown Vic
Gates open at 4pm.
Driver's Meeting at 6pm.
Hot Laps & Racing at 7pm.
Grandstand Tickets are $15; Kids age 6-10 are $10.
Pit Passes are $35; Kids age 6-10 are $25.
Kids five & under are FREE in the grandstand and pit area.
Vidalia Motorsports 602 Sportsman

9 entries

Last Air & Electrical Bomber

4 entries

Flemings Auto Jr. Crown Vic

10 entries

L & L Body Shop Pro Crown Vic

10 entries

602 Chargers

6 entries

Sharp Mini Late Models

18 entries

Sharp Mini Late Model Series
Full Event Information on MyRacePass
Vidalia Motorsports 602 Sportsman
Finish
Start
#
Competitor
Hometown
+/-
1
86
Wiley McDaniel Byron, GA
Byron, GA
-
2
3
Philip Pittman Vidalia, GA
Vidalia, GA
-
3
13
Landon Mathews Dublin, GA
Dublin, GA
-
4
17M
Brandon McDaniel Macon, GA
Macon, GA
-
5
21
Corey Dunn Milledgeville, GA
Milledgeville, GA
-
6
01G
Coby Giddens Cochran, GA
Cochran, GA
-
7
7P
Shawn Pritchard Rincon, GA
Rincon, GA
-
8
23
Paul Smith Newnan, GA
Newnan, GA
-
9
15JR
Marvin Fulford Montrose, GA
Montrose, GA
-
Finish
Start
#
Competitor
Hometown
Time
1
1
13
Landon Mathews Dublin, GA
Dublin, GA
15.390
2
2
01G
Coby Giddens Cochran, GA
Cochran, GA
15.411
3
3
21
Corey Dunn Milledgeville, GA
Milledgeville, GA
15.610
4
6
7P
Shawn Pritchard Rincon, GA
Rincon, GA
15.611
5
4
15JR
Marvin Fulford Montrose, GA
Montrose, GA
15.681
6
5
23
Paul Smith Newnan, GA
Newnan, GA
15.918
DNS
7
86
Wiley McDaniel Byron, GA
Byron, GA
DNS
8
17M
Brandon McDaniel Macon, GA
Macon, GA
DNS
9
3
Philip Pittman Vidalia, GA
Vidalia, GA
All transfer
Sharp Mini Late Models
Finish
Start
#
Competitor
Hometown
Time
1
16
22
Brad Amerson MILLEN, GA
MILLEN, GA
16.603
2
17
00
Ryan Brown Statesboro, GA
Statesboro, GA
16.660
3
14
28
Bryan Funk Grovetown, GA
Grovetown, GA
16.670
4
11
52
Cody Taylor Savannah, GA
Savannah, GA
16.672
5
18
19
Jody Sparks Brooklet, GA
Brooklet, GA
16.719
6
7
54
William Horton Davisboro , GA
Davisboro , GA
16.720
7
4
5
Camden Harp Portal, GA
Portal, GA
16.805
8
13
68
Mitchell McNure Statesboro, GA
Statesboro, GA
16.868
9
12
14D
Jason Daniels Rincon, GA
Rincon, GA
17.209
10
15
14
John Martin Newberry, SC
Newberry, SC
17.422
Top 10 transfer
DNS
1
2
Preston Beckham Chatam, GA
Chatam, GA
DNS
2
21
Brian Scarborough Statesboro, GA
Statesboro, GA
DNS
3
9B
Broughton Boatright Savannah, GA
Savannah, GA
DNS
5
8
Joey Schoen Kite, GA
Kite, GA
DNS
6
101
Dustin Snider Pooler, GA
Pooler, GA
DNS
8
24
Charles Anderson Lexington, SC
Lexington, SC
DNS
9
17
Mitchell Taylor Savanah, GA
Savanah, GA
DNS
10
88
Mike Wolfe Savannah, GA
Savannah, GA
Upcoming Events
Schedule TBA
---
Our Partners