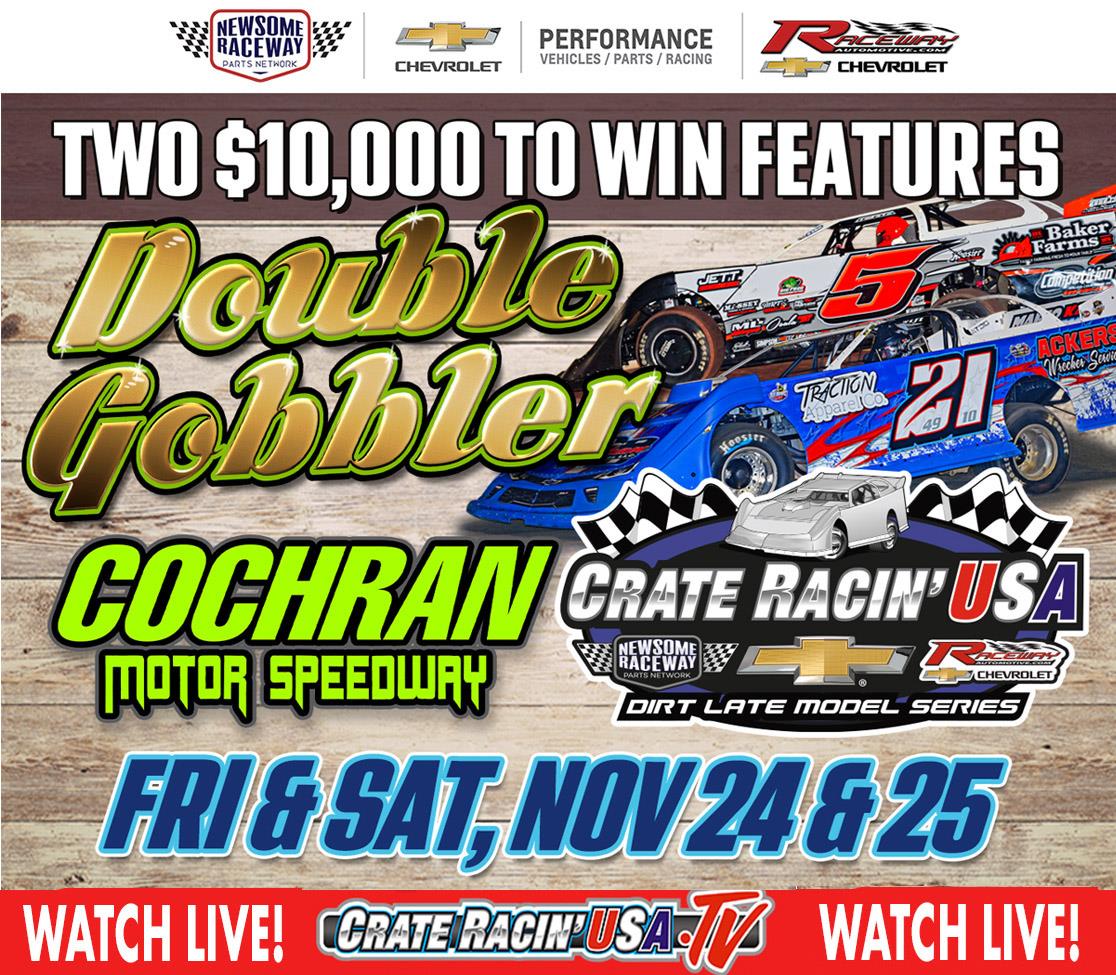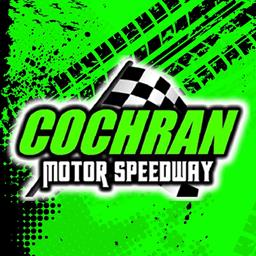 11/11/2023
Cochran Motor Speedway
---
Double Gobbler Set Nov. 23-25 at Cochran Motor Speedway
EASTABOGA, Ala — The season-ending Double Gobbler scheduled Nov. 24-25 at Cochran Motor Speedway will conclude the '23 season for the Adam Stewart-managed Newsome/Raceway Parts Network Crate Racin' USA Dirt Late Model Series as Middleburg, Fla., driver Mark Whitener continues to take direct aim on his first-ever series championship with the Eastaboga, Ala-based organization.
Whitener currently leads the series points standings by a comfortable margin, and could mathematically clinch the $10,000 title before the troops arrive at the 4/10-mile track affectionately known as "The Battlefield." Whitener also currently leads the Crate Racin' USA $100,000+ Challenge points standings, and has the opportunity to cinch that $5,000 championship in the traditional Early Bird 50 slated Nov. 17-18 at Needmore Speedway in Norman Park, Ga., which is the final race of the season for the "series within a series" that consists of 10 races that each pay at least $10,000 to the winner, and carries a separate points fund from the regular touring series.
Brandon, Fla., driver Kyle Bronson kicked off both of the organization's schedules April 1 with a $10,000 victory at Cochran, and the season-ending doubleheader will end the regular touring series schedule at the same venue. Cochran has also been the site of both major and season-ending events for the touring circuit on several occasions, but a new format will be instituted in place of the past World Championship events that have been held at the Chris Martin-promoted facility. The aptly-titled Double Gobbler, which will kick off on Thanksgiving Day [Thursday] with a practice session, will consist of twin features that will each pay $10,000 to the winner.
That new twist will give 48 different drivers a chance to compete in a main event for Chevrolet Performance-powered machines, as each race will start a 24-car field. Drivers who race in the first one will not be eligible for the second one, which means 48 different competitors will have an opportunity to earn money in a feature event. Should the car count be less than 48 machines, the fields for the two races will be split accordingly.
"This new format we intended to use last year at this same event, but the weather caused a cancellation," said series director Adam Stewart. "We've been drawing large fields for our events all season, and this unique format gives more competitors a chance to race for money in a feature event. We've experienced a strong growth trend in our car counts for the past two or three seasons, and it's not unusual for us to have between 40 and 50 cars at our bigger $10,000-to-win races, and sometimes more. This format gives more drivers a chance to take home some money, which also means 48 of 'em will have a chance to compete once during the weekend for $10,000."
There will be an open practice on Thanksgiving night. Then qualifying and heat races to help set the field for the twin features will be staged Friday, November 24th. All of the necessary last chance races and main events are slated for Saturday, November 25th.
More information regarding exact format will be released, and events will also be held during the weekend for 602 Late Model Sportsman, Charger/Beginners, Street Stocks, Bombers, Crown Vic and Pro Crown Vic divisions.
Cochran Motor Speedway is located at 241 Jim Wimberly Road in Cochran, GA. Just off of US Highway 23 north of Cochran.
For information, visit the track website at www.cochranspeedway.com or call the track hotline at 478.456.4036.
---
Back to News