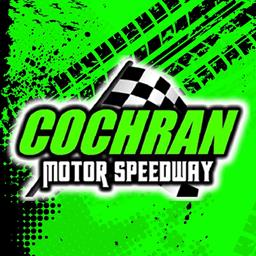 10/2/2023
Cochran Motor Speedway
---
Go Kart Track Ready for Open Practice on October 14th
The much anticipated new go kart track at Cochran Motor Speedway has finally been completed. The track will host it's first open practice on Saturday, October 14th. All kart racers are invited out to get a jump on their competition, see how the track races and find out more information about the plans for the speed plant.
"We have been working hard to get the track completed," said track owner and promoter Chris Martin. "There has been a lot of racers waiting for the track to be ready. It's time to crank it up on October 14th."
The open practice for any style of racing kart will run from 3pm until dusk on Saturday, October 14th. The gates will open at 2pm. Admission tickets are $10 and a kart pass is $10. Any kart going on the track must have a kart pass.
"Now we will have to come up with a name for the track," Martin said. "I will ask for suggestions at the practice, but we may also have some kind of contest to name the go kart track."
For additional information on Cochran Motor Speedway or the new kart track at Cochran Motor Speedway, stay tuned to the track's social media platforms.
The 3/8 mile speedway track will be back in action on Saturday, November 11th when the Southern Class Late Models will be in the spotlight for the 'Battlefield Bash 2024'.
---
Back to News