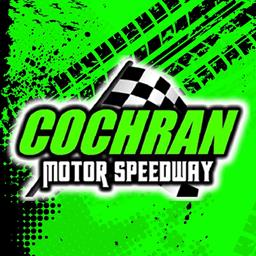 4/4/2023
Cochran Motor Speedway
---
SOUTHERN ALL-STAR SUPER LATE MODELS (April 14-15) INFORMATION
The return of Super Late Model racing to Georgia's Dirt Track Battlefield Cochran Motor Speedway is set for the weekend of April 14 and 15. Our nation's oldest dirt super late model travel series, the Southern All-Stars, will be back at the 3/8ths mile clay track for a $10,000 to win main event on Saturday, April 15th. It will be the first appearance of the high powered, super fast late model series this season.
"We had a successful opener last weekend (April 1) with the Crate Racin USA guys," said promoter / owner Chris Martin. "Now we will bring in the supers for a show. We want to give the fans what they have been asking to see at the track. We want the fans to look to us for great racing shows."
Martin made the decision to slim the weekend down to a single night $10,000 to win show on Saturday night. The Friday portion of the show is now going to feature an open practice night.
"It is just too hard for the drivers, fans and even our staff to get here on a Friday night," explained Martin. "I decided to put our efforts into one great show on Saturday night."
Former Southern All-Star Series champion Billy Franklin along with Florida's Joseph Joiner were the most recent winners on the tour. Columbus, Georgia's Dalton Cook was the runner-up in each of those races. All three of these hot shoes have enjoyed success at Cochran Motor Speedway and should be looking forward to the show on Saturday, April 15th.
Joining the Southern All-Star Series Super Late Models will be the Vidalia Motorsports Late Model (602) Sportsman; the Chargers / Beginners (602); the Last Air & Electrical Bomber; the 602 Open Wheel Modifieds; the L&L Body Shop Pro Crown Vics and the Flemings Auto Jr. Crown Vics!
The gates to the pit area and the grandstand will open at 3pm with the Driver's Meeting scheduled for 6:30pm. Hot Laps will follow the Driver's Meeting.
Grandstand Tickets are $25; Kids age 6-10 are $10; Five & Under are free
Pit Passes are $45; Kids age 6-10 are $25; Five & Under are free
Cochran Motor Speedway is located at 241 Jim Wimberly Road in Cochran, GA. Just off of US Highway 23 north of Cochran.
For information, visit the track website at www.cochranspeedway.com or call the track hotline at 478.456.4036
---
Back to News