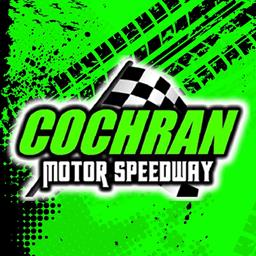 4/2/2023
Cochran Motor Speedway
---
BRONSON POCKETS $10,000 AT SEASON OPENER
Kyle Bronson opened the Cochran Motor Speedway 2023 season with a $10,000 to win victory in the Crate Racin' USA Dirt Late Model Series No Foolin' Foray. There were forty-four cars registered in the 604 Crate Late Model division.
CRUSA Dirt Late Models - A Feature 1 (Results): 1-Bronson.K 2-Lloyd.T 3-Overton.C 4-Martin.P 5-Craft.B 6-Herrington.W 7-Whitener.M 8-Welshan.J 9-Haskins.C 10-Peacock.H 11-Harris.C 12-Steele.J 13-Thomas.J 14-Gresham.M 15-Cardwell.H 16-Sharpe.J(Jr) 17-Knowles.J 18-Brocato.M 19-Ruark.L 20-Underwood.M(Jr) 21-Gay.C 22-Trouille.C 23-Riner.S 24-McClain.R 25-Markewitz.J
Up next for Georgia's Dirt Track Battlefield is a double-header weekend for the Southern All-Star Super Late Model Series on Friday, April 14th and Saturday, April 15th.
---
Back to News