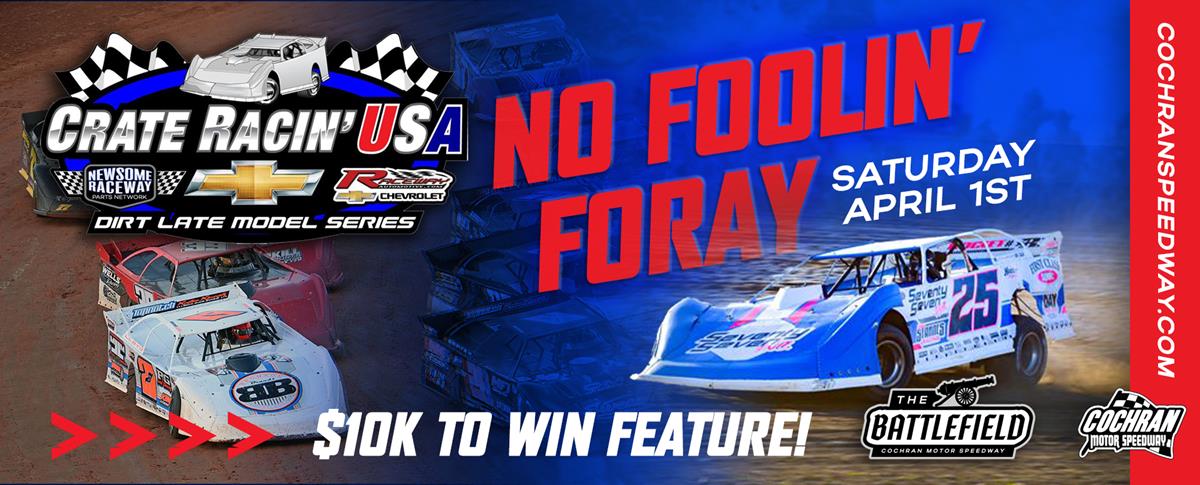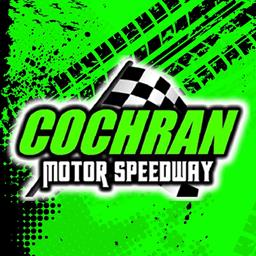 3/27/2023
Cochran Motor Speedway
---
CRATE RACIN USA CRATE LATE MODELS WEEKEND SCHEDULE & INFO
Cochran Motor Speedway will try once again this Friday and Saturday night (March 31/April 1) to start their 2023 racing season. The 3/8ths mile central Georgia dirt track has been rained out the two previous weekends. If mother nature allows, the speed plant known as 'The Battlefield' will host the Crate Racin USA (604) Late Models for a $10,000 to win tilt on Saturday night.
"We have not been able to get any racing in due to the rainy weather," said track owner/promoter Chris Martin. "We ran a practice this past Friday, but had the show washed away with the Saturday morning thunderstorms."
This weekend's schedule includes another opportunity to practice on Friday, March 31st with a Test & Tune offered to all classes. The gates will open at 5pm with the open practice running from 7:30pm to 10:30pm. Pit passes are $25 while fans can catch a glimpse of the weekend's racers with FREE grandstand admission.
Saturday, April 1st will feature the 'No Foolin Foray' for the Crate Racin USA (604) Late Models. They will be joined by the Late Model (602) Sportsman, Chargers / Beginner (602); Street Stock; Bombers; Open Wheel (602) Modifieds; Pro Crown Vic and Junior Crown Vic divisions.
The gates will open at 4pm with the Driver's meeting set for 6:30pm. Hot Laps will follow the completion of the Driver's meeting.
Tickets are $20; Kids (6-10) are $10; Five & Under are free.
Pit passes are $40; Kids (6-10) are $20; Five & Under are free.
Drivers Need to make sure they are there to get all updated paperwork done and filled out before the Driver's Meeting. Schedule your time to be there early.
Cochran Motor Speedway is located at 241 Jim Wimberly Road in Cochran, GA. Just off of US Highway 23 north of Cochran.
For information, visit the track website at www.cochranspeedway.com or call the track hotline at 478.456.4036
---
Back to News