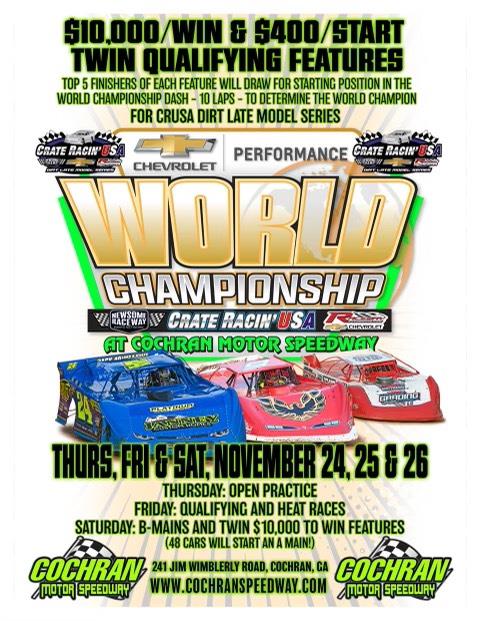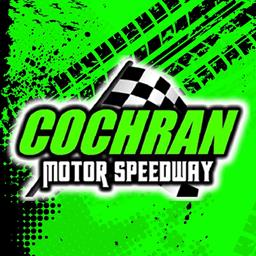 11/12/2022
Cochran Motor Speedway
---
GOBBLER WEEKEND OFFERING GREAT RACING, GREAT FUN, BIG MONEY
GOBBLER WEEKEND
Cochran Motor Speedway
Georgia's Dirt Track Battlefield
THANKSGIVING WEEKEND TRADITION
November 24-25-26
Crate Racin USA Late Models
WORLD CHAMPIONSHIP
$10,000 to win! $400 to start!
Twin Qualifying Features! 24 Cars Start Each Feature!
Top five finishers from each feature will draw for starting positions in the 10-lap dash to crown the Crate Racin USA Late Model World Champion!
PLUS - PLUS - PLUS
602 Late Model Sportsman Feature (Fri & Sat) - $2000 to win each!
***Feature on Friday - $2000 to win!
***Feature on Saturday - $2000 to win!
Bomber Feature paying $3000 to win!
Southeastern Modified Association Feature paying $1000 to win!
***Sellers Shock Service - $200 Hard Charger Award (Sat. Feature)
Crown Vics and 602 Chargers / Beginner racing too!
The Shriners will be there all weekend - 50/50 Raffle! Fun Stuff for the Kids!
Thursday, November 24 - Open Practice (evening)
Friday, November 25 - Racing
Saturday, November 26 - Racing
Back to News