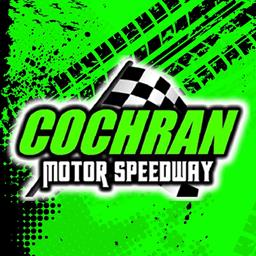 7/18/2022
Cochran Motor Speedway
---
SCHEDULE CHANGES ANNOUNCED
Cochran Motor Speedway officials announced this past weekend that the event scheduled for Saturday, July 23rd has been canceled due to a staff shortage.  The highly anticipated return of the NVRA Vintage Car Series will have to wait until next month as track co-owner Joni Martin had to make the tough decision to cancel.
"There are a lot of staff that have requested the weekend off," explained Martin.  "All of the track staff have vital roles on Saturday nights.  You cannot just fill in the spots with anyone.  Like everywhere else, there is a shortage of workers.  This is tough.  We know our racers want to get back out there and race."
Martin also announced that the August 6th date will slide one week later to August 13th.  Racing action is set to return that night with competition planned in the Vidalia Motorsports 602 Sportsman, Heartland EMS Street Stock, L&L Body Shop Pro Crown Vic, Flemings Auto Jr Crown Vic, Last Air & Electrical Bomber and the Southeastern Modifieds.
Back to News