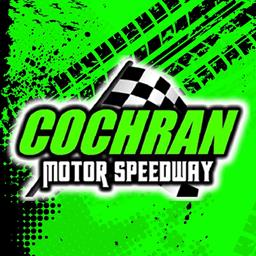 4/23/2021
Cochran Motor Speedway
---
COCHRAN MOTOR SPEEDWAY ANNOUNCES 2021 PARTNERS
Cochran Motor Speedway is proud to announce their list of partners supporting the track's racing operation for the 2021 racing season.  These great partners have come on board to enhance the racing program and experience at Cochran Motor Speedway for the fans, drivers, crew members and friends.  Track officials ask for everyone's reciprocal support when it comes time to do business within the racing community.
Mid-State Tractor & Equipment has agreed to sponsor the Crate Late Model division. The mid-state Kubota dealer located in Dublin is supporting Cochran Motor Speedway this season with it's entitlement of the exciting and action packed Crate (604) Late Models. Learn more about Mid-State Tractor & Equipment on their website at https://www.midstatetractorandequip.com/.
Returning for another season as title sponsor of the always exciting Sportsman 602 division is Baldwin Builders Supply. A long time supporter of the Cochran Motor Speedway racing program, Baldwin Builders Supply is located in Milledgeville. When the need arises for lumber, roofing, windows and doors or siding, make Baldwin Builders Supply your first choice for selection.
Providing quality medical service to our area since 1995, Heartland EMS is a vital component to our racing program every time we open the gates. Heartland EMS has also been a supporter of the racing program and will continue it's entitlement of the Pure Stock division.
Last-Air & Electrical is also back as the title sponsor in our Bomber class. Quality workmanship. Fast and affordable service make Last-Air & Electrical your first call when it comes to your home or business needs for air conditioning, HVAC systems or electrical installation and repair.
Other great partners at the track this season include Bleckley Ace Hardware, Coca Cola, Flemings Auto, Home Furniture, Hoosier Tires, Morris Bank, L&L Body Shop, Rockauto, Rozier Auto Parts, Sweat & Associates, LLC and VP Racing Fuels.
We thank all of these great businesses for their contribution to our racing program.
Back to News