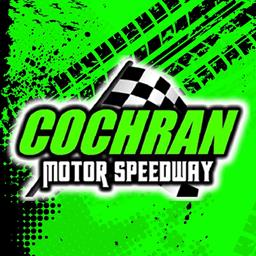 2/12/2021
Cochran Motor Speedway
---
GET READY FOR A FULL WEEKEND OF RACING ACTION ON MARCH 11, 12 AND 13
Cochran Motor Speedway will fire up the engines for the first time in 2021 with a huge weekend of racing at the 3/8ths mile Battlefield!  The rescheduled / makeup event date for the Gobbler 100 will be Friday, March 12th.   All armbands will be honored on Friday, March 12th for re-entry into the event. HOLD ON TO YOUR ARMBANDS. CMS is not responsible if you lose your armband.  It will be followed up with the running of the Street Stock World Championship on Saturday, March 13th along with another Super Late Model race and special events for other divisions.
"We wanted to make it worthwhile for teams to come back to Cochran Motor Speedway for events that were lost due to weather,� explained promoter/owner Chris Martin.  "Weather was not kind to us or our racers last fall and winter.  We decided to create a huge weekend allowing the drivers who were left disappointed in November and again in December to come back and get two shots at racing for some good money.�
The weekend starts with an open practice on Thursday, March 11th.  Any division is welcome to come and practice.  Plenty of track time is promised as drivers will need to shake the rust and get ready for the racing action on Friday and Saturday night.
Friday, March 12th is the Gobbler 100 completion of B-Mains and the Feature Events that were lost in November.  Positions earned previous to the weather cancellation will be honored, but the B-Mains and last chance races will allow drivers to race their way into the money races.  Armbands from the rained out event will be accepted for exchange into this event.
Cochran Motor Speedway will run a complete new show on Saturday, March 13th.  The finale for the weekend will include a Super Late Model race paying $5,000 to win; the Street Stock World Championship race paying $5,000 to win and several other races for the Crate Late Models, the 602 Late Models & Bombers.
Camping is available for the weekend.  Reservation form is available in the upper right corner of the website at www.cochranspeedway.com.
Back to News