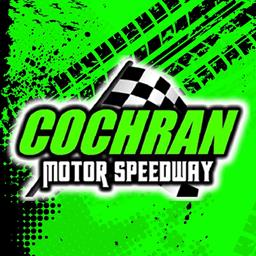 12/11/2020
Cochran Motor Speedway
---
SPECIAL EVENTS ANNOUNCED FOR NEXT SEASON
Cochran Motor Speedway promoter Chris Martin announced his special event plans for the 2021 season.  The 3/8ths mile Georgia 'Battlefield' will once again lead area tracks with an aggressive schedule of special events offering thousands and thousands of dollars to drivers in several different divisions.  The 2021 special events will begin with the make-up date for the rained out Gobbler 100 finale on March 12th.  The very next day Martin will put up more money to provide travelling teams another opportunity to cash in and pay expenses for the make-up date.
"We wanted to give the teams another shot at claiming some money for the weekend," said Martin.  "They supported us in November and we want to show that appreciation by rescheduling the race along with a second night of competition and another chance at claiming some money to off-set the travel expenses.  We hope the fans will also support both events."
Other events that fans and drivers have continually looked forward to at Cochran Motor Speedway are back on the calendar for the new year.  The Memorial Day Blow-Out will offer Late Model (602) Sportsman a shot at ten grand while the Labor Day Blow-Out bookends the summer racing season with a $20,000 to win race for the Crate Racin USA Late Models.  The annual Gobbler 100 hands over $20,000 to the the winner of the Super Late Model show and the New Years Bash again hits the Street Stocks with a World Championship honor and $5,000 while the Crate Racin USA teams chase $10,000 to win.
Back to News