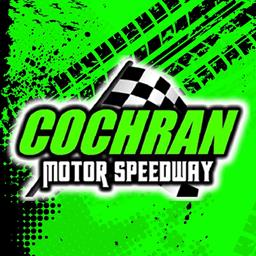 11/30/2020
Cochran Motor Speedway
---
GOBBLER 100 MAKE-UP DATE DETERMINED
The rescheduled / makeup event date for the Gobbler 100 will be Friday, March 12th. All armbands will be honored on Friday, March 12th for re-entry into the event. HOLD ON TO YOUR ARMBANDS. CMS is not responsible if you lose your armband.
Thursday, March 11th there will be a Test And Tune to get ready
Friday, March 12th is the Gobbler 100 completion of B-Mains and the Feature Events
THEN A WHOLE NEW EVENT WILL TAKE PLACE TO OFFER TEAMS A SECOND RACE NIGHT TO OFFSET THEIR TRAVEL COSTS!!!
Saturday, March 13th - Complete New Show for all classes.
Super Late Models - $5000 to win
Crate Late Models - $2000 to win
602 Late Models A & B Feature Events each paying $1000 to win
(if there are more than 40 entries)
Pure Stock & Bomber $1000 to win
More information will be released at a later date.
Thank you for your understanding and patience with the situation created with the weather on Saturday, November 28th.
Back to News