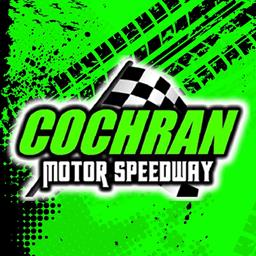 10/23/2019
Cochran Motor Speedway
---
FINAL POINT STANDINGS ARE POSTED
The 2019 Cochran Motor Speedway points season has been completed and we would like to congratulate our season title winners.  
Parker Martin topped the field of Durrence Layne Crate Late Models for the championship title while Dustin Diem won the title in the Baldwin Builders 602 Sportsman class.  In the Heartland EMS Pure Stock division Coby Giddens kept Tyler Giddens at a distance through the last part of the season to claim another championship and Clarissa Ledford stayed atop the points chart for the season laurels in the Last Air & Electrical Bombers.  Pailsey Martin made it a sister/brother championship year as she claimed the crown in the L & L Body Shop Jr. Enduro.
A complete rundown of the final point standings are available by clicking on 'standings' on the top menu bar of the website.
Back to News