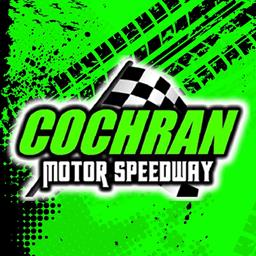 3/24/2019
Cochran Motor Speedway
---
FERGUSON CLAIMS CHECKERS AT SPRING NATIONALS COCHRAN DEBUT
Emerging from an early side-by-side battle for the lead with Ross Bailes that lasted for several laps, Mt. Holly, N.C., driver Chris Ferguson took the point and rolled to a $10,000 victory in a 60-lap Schaeffer's Oil Spring Nationals (presented by Sunoco Race Fuels) event held March 23 at Cochran Motor Speedway.
The early duel for the point was a sizzling one, with the two drivers trading the top spot back and forth before Ferguson grabbed the lead for good on the third circuit. Ferguson led the first lap, Bailes paced the second, and Ferguson took the point for good on the third trip around the 3/8-mile oval. He never again trailed and opened up a straightaway advantage over Bailes during the middle stages while en route to the winner's circle.
Bailes suffered driveshaft failure and fell from competition on the 41st circuit, and Michael Page worked past Dale McDowell on the subsequent restart to become Ferguson's chief challenger during the closing stages. A late caution with six laps remaining set up an opportunity for Page, but Ferguson repelled a low-side glance from the Douglasville, Ga., driver to secure the win.
Completing the top five in the 23-car field were Dale McDowell, Donald McIntosh and Travis Pennington. The latter competitor drove a machine outfitted with a Chevrolet Performance CT 525 engine.
Back to News