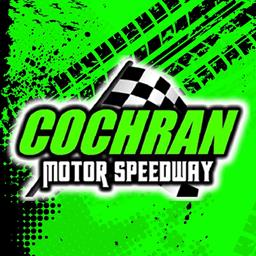 8/21/2018
Cochran Motor Speedway
---
SATURDAY, AUGUST 25th RACE EVENT INFO
Baldwin Builders Supply Sportsman - $2000 to win!!!
THIS SATURDAY NIGHT - COCHRAN MOTOR SPEEDWAY
Fire the Cannon - the BATTLE IS ON!!!
Plus, the Durrence Layne Chevrolet Crate Late Models, the CCS Air & Electrical Bombers, the Heartland EMS Pure Stock, the Hot Shot 440s and the Last Air & Electrical Jr Enduro will all be racing!!!
Make plans to be at Cochran Motor Speedway this Saturday, August 25th!!!
Admission:
Grandstand $15 / kids 6-10 $5
Pits $30 / kids 6-10 $15
Baldwin Builders Sportsman 40 laps $2000 to win ($100 entry fee). Tire Rule: 1350 add 25 lbs in front of mid plate. Spec 1350, Crate 21, and Crate 55. Will qualify. Locking in top 6. Will do a redraw for invert. Remainder of field will run heats.
Durrence Layne Crate Late Models will run double features. 1st feature will be from 5/12 rainout. Qualifying has been completed for this race. Any new cars will draw for starting spot. We will qualify for 2nd feature.
Back to News