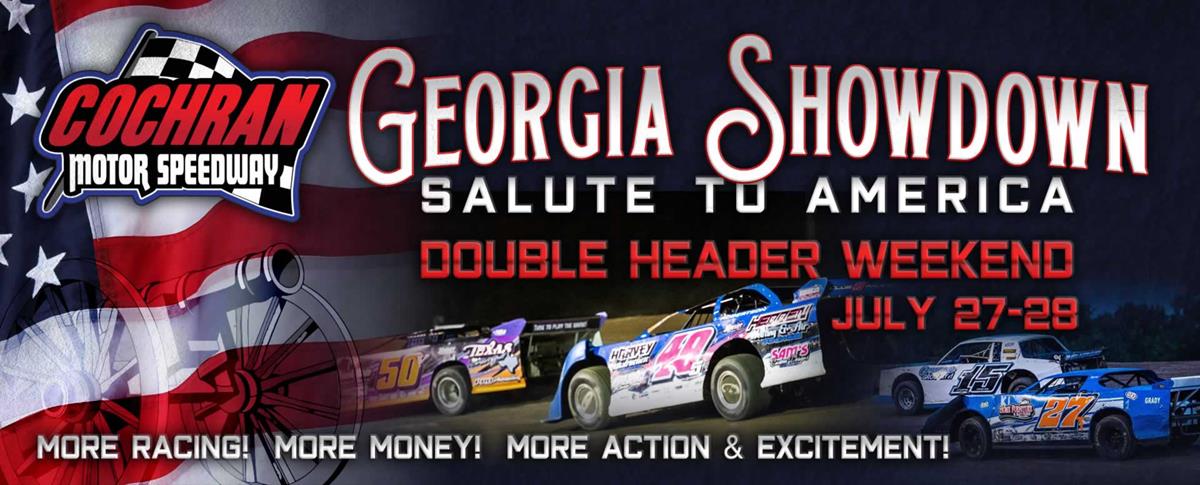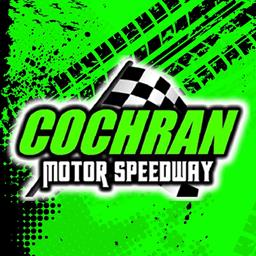 7/26/2018
Cochran Motor Speedway
---
GEORGIA SHOWDOWN - Friday, July 27 & Saturday, July 28 (INFORMATION - Fans & Drivers)
GEORGIA SHOWDOWN SALUTE TO AMERICA
This Friday & Saturday Night - July 27 and 28
FRIDAY, JULY 27
Pits & Grandstand Gates Open at 5pm
Hot Laps begin at 7pm
Racing at 8pm
Friday Night Features Include: 
Bomber $2000 to Win (Make Up From 5/12)
Hot Shots $300 to Win (Make Up From 5/12) 
Crate Late Model $1000.00 To Win
Plus Qualifying/Heats with Features on Saturday:
Pure Stock ($75.00 Entry Fee)
Sportsman 602($100 Entry Fee)
Bomber
Hots Shots
Grandstand Tickets: $10; Kids 6-10 $5; Five & under are FREE
Pit Passes: $30; Kids 6-10 $15; Five & under are FREE
SATURDAY, JULY 28
Pit & Grandstand Gates Open at 4pm
Driver's meeting at 6:30pm
Hot Laps begin at 7pm
Racing to immediately follow Hot Laps
Qualifying & Last Chance Races on Saturday:
602 Sportsman Last Chance Race (If Needed)
Qualifying Crate Late Models
Saturday Night Features Include: 
Jr. Enduro $400 to Win
Pure Stock $2000.00 to Win 
602 Sportsman $3000.00 to Win 
Bomber $1000.00 to Win 
Crate Late Model $2000.00 (100 Entry Fee)
Hots Shots $500.00 to Win (10 Car Min)
Grandstand Tickets: $15; Kids 6-10 $5; Five & under are FREE
Pit Passes: $35; Kids 6-10 $15; Five & under are FREE
Driver's Information For The 5th Annual Ga Showdown
Tech & Registration Opens At 5:30pm.   Make sure you are registered and have gone thru Pre-Race Tech. 
Drivers Meeting AT 7:45pm.  Hot Laps At 8:00pm.
Bomber $2000.00 to Win (Rain out From 5/12) Friday Night / Saturday $1000.00 to Win.
Hot Lap Qualifying Friday Night for Saturday Night Feature. Bomber Class Must Come Thru Tech Between 6:45 till 7:30.
Pure Stock $2000.00 To Win Entry Fee $75.00 - Heat Races Friday Night & Feature Saturday.
602 Sportsman $3000.00 To Win Entry Fee $100.00 - Qualifying, Heats Friday. Last Chance Race & Feature Saturday. Tire Rule Spec 1350 Spec 1600 Crate 21, Crate 55. Open 1350 add 25lbs.
Crate Late Model Friday Night $1000.00 / Saturday Night $2000.00 To Win $100.00 Entry Fee. Tire Rule Spec 1350 Spec 1600 Crate 21, Crate 55. No Grooving or Swiping Allowed on the Spec 1350 or Crate 21. Original Factory Grooves May Be Regrooved And Replaced. Grooving and Swiping Is Allowed On The Crate 55 and Spec 1600.
Jr. Enduro Saturday $400.00 To Win.
Hot Shots/440 Friday Night $300.00 (Rain out from 5/12) Plus Heat Race Friday Night For Saturday Feature ($500.00 to Win 10 Car Count Min)
It is Driver's Responsibility To Make Sure That They Meet The Rules. All Rules Can Be Found On Website. www.cochranspeedway.com Under Driver Information.
Driver's Must Attend Both Nights To Be Eligible for Additional Purse.
Tire Chemicals Will Not be Allowed.
Minor Infractions are subject to Weight Penalty. All Weight Penalties will be added in front of Firewall at Tech Officials Discretion.
Back to News