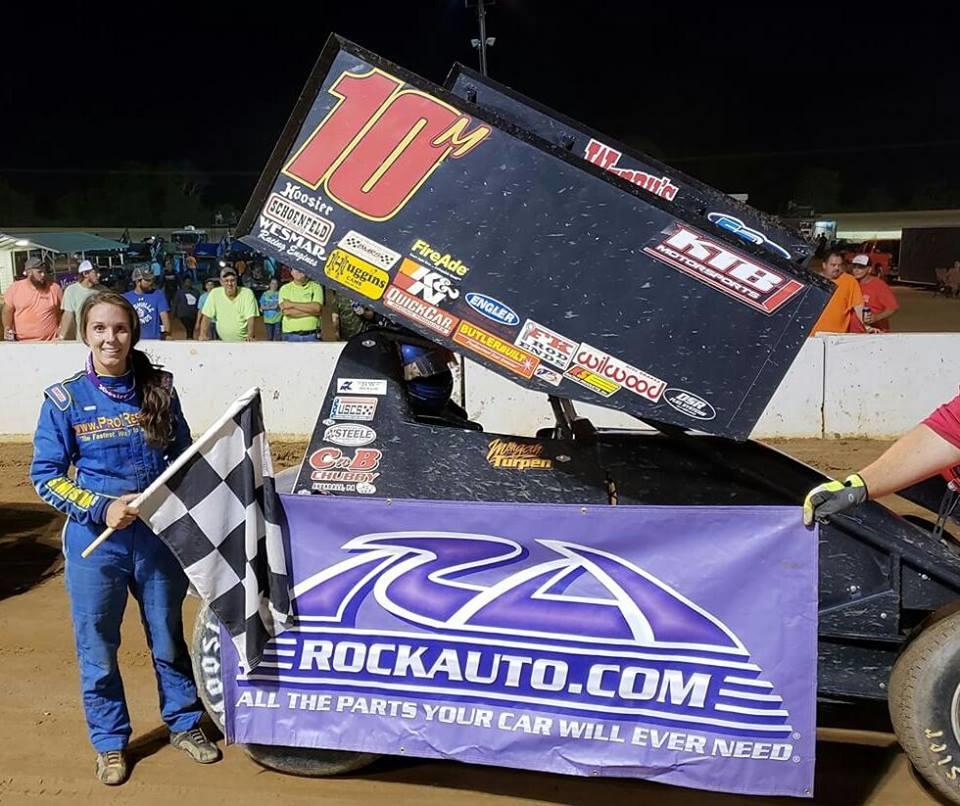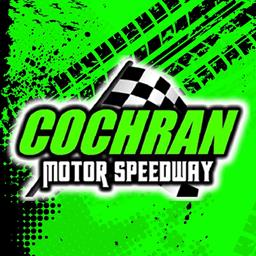 6/24/2018
Cochran Motor Speedway
---
TURPEN GRABS SPRINT CAR CHECKERS AT COCHRAN MOTOR SPEEDWAY
Two-time United Sprint Car Series presented by K&N Filters National Champion, Morgan Turpen from Cordova, Tennessee passed early-race leader, Lance Moss from Cherryville, North Carolina on lap ten of the 30-lap USCS Red Dirt Rumble Round #2 contest then held off several stiff challenges following three caution periods to park in the www.rockauto.com USCS Victory Lane at Cochran Motor Speedway during the USCS Saturday of Speed presented by FireAde on Saturday night. The win was Turpen's second USCS win of the 2018 season for the driver who led the season 2017 wins column for the series with nine victories.
Lance Moss started on the K&N Filters Pole Position with young gun Chase Dunham from Leipsic, Ohio to his right outside the front row. Moss then used his starting spot to his advantage to lead the first ten laps before Turpen, who started fourth challenged him, then raced past on lap eleven into the lead. Turpen held the lead the final eighteen laps although being challenged after every one of three re-starts after caution periods to claim the victory.
Danny Martin, Jr. moved up from his sixth starting position and chased her across the finish line in the runner-up spot while eleven-time series Champion, Terry Gray claimed the K&N Filters Podium Award after finishing behind Martin in third place. Mallett, who had moved up to challenge for the lead at the halfway mark faded back to fourth place at the end. Ohio traveler, Chase Dunham who had slide back to seventh at one point, recovered to collect the final top five spot in fifth place.
Terry Witherspoon from Jacksonville, Florida led the next group in sixth place. Witherspoon spun on lap four, then, recovered from the rear of the field to finish in sixth place. Lance Moss finished in the seventh position, followed by, Matt Kurtz, also from Jacksonville, Florida in eighth place. The 2014 USCS Rookie of the Year, Brandon McLain from Indian Trail, North Carolina followed Kurtz in ninth place. Joe Larkin from Suwanee, Georgia rallied from a sixteenth place start to finish in tenth place.
In the evening's preliminary action, Danny Martin, Jr. kicked off the night's USCS sprint car action by winning the 6-lap USCS Hoosier Tire Speed Dash. Martin kept his good fortunes going with a win in the 8-lap Engler Machine and Tool First Heat. Morgan Turpen claimed the victory in the 8-lap Brown and Miller Racing Solutions Second Heat. Joe Larkin claimed the Wilwood Disc Brakes Hard Charger Award for passing the most cars in the main event (six).
The USCS Outlaw Thunder Tour drivers next invade Columbus Speedway (a.k.a. the Bullring) in Columbus, Mississippi on Friday, June 29th to kick off the 2nd annual USCS Summer Shootout mini-series with Round #1. On the following night the series returns to North Alabama Speedway in Tuscumbia, Alabama for Round #2 of the USCS Summer Shootout. Round #3 is set for Tuesday, July 3rd at Lexington 104 Speedway near Lexington, Tennessee.
The series then takes two days off before re-firing at Hattiesburg Speedway in Hattiesburg, Mississippi on Friday, July 6th for Round #4 before contesting the USCS Summer Shootout Finale with the 3rd annual USCS King of Mississippi event at Whynot Motorsports Park in Meridian, Mississippi on Saturday, July 7th…for USCS Outlaw Thunder Tour info and rules please visit www.uscsracing.com
The United Sprint Car Series presented by K&N Filters would like to gratefully thank its sponsoring partners for their involvement in the 2018 and 22nd USCS Outlaw Thunder Tour. Those include: K&N Filters, www.rockauto.com,Engler Machine and Tool, FireAde, Arizona Sport Shirts, Butlerbuilt, Wilwood Disc Brakes, Saldana Racing Products, Pyrotect Racing Cells, DMI/Bulldog Rear Ends. PRO Shocks, KSE Racing Products, DHR Suspensions, Schoenfeld Headers, Bell Helmets, DSR Fuel Systems, Brown and Miller Racing and the great people at Hero Graphics.
USCS Outlaw Thunder Tour presented by K&N Filters Outlaw Sprint Cars at Cochran Motor Speedway on Saturday, June 23, 2018 results:
Engler Machine & Tool First Heat (8 Laps):
24jr-Danny Martin Jr[3] ; 2. 51-Chase Dunham[1] ; 3. 43-Terry Witherspoon[6] ; 4. 21b-Brandon McLain[4] ; 5. 38-Tony Agin[5] ; 6. 99-Tanner Witherspoon[8] ; 7. 28-Jeff Willingham[2] ; 8. 07-Brandon Taylor[7]
Brown and Miller Second Heat (8 Laps):
10m-Morgan Turpen[1] ; 2. 10-Terry Gray[2] ; 3. 23-Lance Moss[4] ; 4. 14-Jordon Mallett[5] ; 5. 82-Matt Kurtz[7] ; 6. 67-Brian Thomas[3] ; 7. 29-Danny Oliver[8] ; 8. 33-Joe Larkin[6]
USCS Hoosier Tire Speed DASH - (6 Laps)
24jr-Danny Martin Jr[2] ; 2. 82-Matt Kurtz[3] ; 3. 14-Jordon Mallett[4] ; 4. 07-Brandon Taylor[6] ; 5. 10m-Morgan Turpen[1] ; 6. 10-Terry Gray[5]
USCS Outlaw Thunder Tour FireAde Main Event - (30 Laps)
10m-Morgan Turpen[4] ; Cordova, TN
24jr-Danny Martin Jr[6] ; Sarasota, FL
10-Terry Gray[3] ; Bartlett, TN
14-Jordon Mallett[7] ; Greenbrier, AR
51-Chase Dunham[2] ; Leipsic, OH
43-Terry Witherspoon[5] ; Jacksonville, FL
23-Lance Moss[1] ; Cherryville, NC
82-Matt Kurtz[8] ; Jacksonville, FL
21b-Brandon McLain[9] ; Indian Trail, NC
33-Joe Larkin[16] ; Suwanee, GA
38-Tony Agin[11] ; Ft. Myers, FL
28-Jeff Willingham[14] ; Ripley, MS
99-Tanner Witherspoon[10] ; Jacksonville, FL
29-Danny Oliver[12] ; San Diego, CA
67-Brian Thomas[13] ; Pendergrass, GA
DNS. 07-Brandon Taylor[15] ; Cumming, GA
Back to News