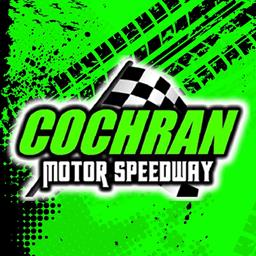 9/29/2016
Cochran Motor Speedway
---
GA STATE CHAMPIONSHIP
OCTOBER 22nd GA STATE CHAMPIONSHIP!
BRING THE WHOLE FAMILY FOR SOME GREAT RACING ACTION. CAMPING IS FREE!
LAST AIR & ELECTRICAL JR. ENDURO, MULE HIDE PRODUCTS BOMBER, HEARTLAND EMS PURE STOCK, CENTRAL GA AUTO SALVAGE SUPER STREET, BALDWIN BUILDERS SPORTSMAN AND JOHNSON RECYCLING LATE MODELS.
ATTENTION LATE MODEL DRIVERS: WE WILL RUN BY SOUTHERN THUNDER LATE MODEL RULES AND WEIGHTS!
ATTENTION NESMITH STREET STOCKS/SUPER STREET DRIVERS: NESMITH STREET STOCKS CAN RUN WITH THE SUPER STREET DIVISION. NESMITH CARS MUST BE BY THE NESMITH RULES! SUPER STREET CARS MUST BE BY THE RULES THAT CMS RUNS AS THEY ARE IN THE RULE BOOK!
Back to News